Church schools or how to get them to polish the brass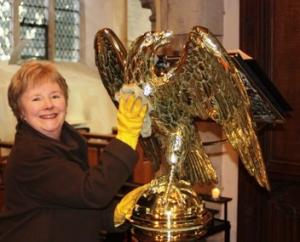 In the UK the Anglican state church is dying out. [1] Hence the urgency of the Church of England to take over social services, beginning with the schools.
The state church already runs more schools in England than anyone else and the number is rising further. [2] In fact, the Archbishop of Canterbury has audacious plans to take over most of secondary education in England. [3] A 2012 Church of England report says that
Church schools stand at the centre of its mission. It educates approximately 1 million of the nation's children in primary and secondary schools, which enables more direct engagement with children and their families than any other contact, including regular Sunday worship. [4]
The state schools are obliged to take any child who applies, but not the sectarian schools ― even though they are substantially funded by the state. Instead, they are allowed to choose their pupils in order to favour co-religionists and thus maintain the school's "ethos". [5] However, the selection process by sectarian schools is opaque and compliance with government directives is purely voluntary. [6] The Bishop of Oxford admitted in an unguarded moment that cherry picking regularly results in "getting some very able children" [7] and a study has confirmed this. [8] (However, the Church of England has voiced opposition to schools whose selection is based purely on academic criteria, the "grammar schools", which it can't control. This also allows it to gloss over its own record by talking about "serving the needs of the many, not just the few".) [9]
Because the cost of private education is so high, many parents regard the selective church-run schools as a thrifty alternative. Before their children reach school age they can be seen polishing brass in the parish church. The game is well understood, but it is in the interest of the churches to play along. And it's not only the children they hope to get.
As Church of England Bishop of Burnley remarked, "People say the parents are only going to church to get their children into faith schools, I say you have them for three years, what are you doing with them? It is a great opportunity!" [10] And the Bishop of Oxford exulted:
Nationally we have a million parishioners in our schools every day. And these children have a whole hinterland of families.... What an opportunity! ... We don't have to bemoan the fact that our Sunday School has collapsed if there are 200 children at the local church school! [11]
The privileges already given to sectarian schools are set to increase, as they are turned into academies, with new control over admissions, curriculum and funding. [12] At the same time, funding from the local government is being cut back for state schools, and this is forcing them to affiliate with or even convert into Church of England schools. In 2011 the Archbishop of Canterbury said that his Church is faced with the "breath-taking" prospect of becoming the dominant force in state education. [13] And the state church is not the only one taking advantage of this erosion of secular education. Opus Dei already has two primary schools in London and by 2013 expects to have two secondary ones as well. [14] Other Catholic schools are also benefitting from state support while, at the same time, they are being urged to demonstrate "renewed missionary zeal". [15]
Even in countries like Australia and Canada with a tradition of confining public funding to state schools, political pressure by the Catholic Church has led to full taxpayer support of a parallel Catholic school system. In Australia this came about in 1972 when leader of the opposition Labor Party Gough Whitlam made a deal with the Church to fund its schools if elected. The Archbisop of Sydney, James Carroll "released" Catholics to vote Labor and Prime Minister Whitlam then fulfilled his end of the bargain. [16] In Canada, however, this strategy paid off for the Church, though not for the politician. In 1984 Ontario's Premier William Davis tried to secure the Catholic vote by extending state funding for Catholic schools right through grade thirteen. The following year his Conservative Party lost the election — but, of course, the subsidies remain.
And society pays for sectarian schools not only financially, but also in terms of the tribalisation of society. A large body of research in the social psychology of prejudice concludes that day-to-day contact between children of different faiths offers the best chance of breaking down barriers between communities.
Further reading: Stephen Evans, The Church of England's unrelenting exploitation of the nation's schools, National Secular Society, 2013-11-20
Notes
1. Linda Woodhead, "Time to get serious", Church Times, 2014-01-31. http://www.churchtimes.co.uk/articles/2014/31-january/features/features/time-to-get-serious
Weekly attendance at Church of England services has shrunk to about two percent of the population, leaving the churches largely empty:
Adrian Hamilton, "Will the last person to leave the Church of England please turn out the lights", Independent, 2011-04-18. http://www.independent.co.uk/voices/faith/will-the-last-person-to-leave-the-church-of-england-please-turn-out-the-lights-2269185.html
2. The Church of England, "Church schools and academies: Key facts, 2011". http://www.churchofengland.org/education/church-schools-academies.aspx
Church of England schools come in two varieties:
"What's the difference between Voluntary Aided and Voluntary Controlled Church of England Schools?" Diocese of Rochester. http://www.rochester-board-of-education.co.uk/home/frequently-asked-questions-3/frequently-asked-questions-2/
3. Keith Porteous Wood, "Church expansionism into education must be challenged", National Secular Society, 2011-10-07. http://www.secularism.org.uk/nss-challenges-church-expansioni.html
4. Priscilla Chadwick, The Church School of the Future, Church of England Archbishop's Council Education Division, March 2012, p. 3. http://www.churchofengland.org/media/1417976/the%20church%20school%20of%20the%20future%20review%20-%20march%20%202012.pdf
5. Although sectarian schools are publicly funded, the Church of England balked at reserving even 25 percent of its school places for non-Anglican neighbourhood children:
Jessica Shepherd, "Church of England schools urged to offer more places to non-Christians", Guardian, 2011-04-22. http://www.guardian.co.uk/education/2011/apr/22/church-england-schools-places-non-christians
And even those schools which profess to fill a quarter of their places with non-church children are rumoured to get around this by using those "open" places for siblings:
Zoe Williams, "The mad scramble for school places", Guardian, 2011-09-09. http://www.guardian.co.uk/education/2011/sep/09/scramble-school-places-parents-class
UK laws permit a certain proportion of pupils and even teachers to be chosen so as to maintain the religious "ethos". This exempts sectarian schools from the normal obligation not to discriminate against people on religious grounds. The government appears willing to grant this exemption partly to save money. As a spokesman for the British Prime Minister admitted: "the majority of the faith groups that established these schools provided the land and buildings in the first place at no cost to the public purse". (Catherine Else, responding on behalf of Prime Minister David Cameron to Steve Taylor, spring 2011. http://www.secularism.org.uk/128497.html) What is meant here, of course is "no additional cost", since the land and buildings of the churches are already receiving preferential tax treatment or even outright government grants.
6. A 2007 study from the Institute for Public Policy Research shows that "faith schools" are even less representative of their local community than other kinds of schools which act as their own admissions authorities. "More evidence that "faith school" selection causes segregation", Newsline, 1 June 2007. http://www.secularism.org.uk/82252.html
7. David Marley, "C of E opens school gates to non-believers", TES Newspaper, 2011-04-22. http//www.tes.co.uk/article.aspx?storyCode=6078734
8. "Church schools shun poorest pupils: Most Catholic and Church of England school have a higher proportion of middle-class children than the local population", Guardian, 5 March 2012-03-05 http///www.guardian.co.uk/education/2012/mar/05/church-schools-shun-poorest-pupils
9. "Church rejects plans for new grammars", Times, 2017-04-08. https://www.thetimes.co.uk/article/church-rejects-plans-for-new-grammars-723wdcfcw?shareToken=b618060c61496d9762cdd1400091e216
10. Bishop of Burnley, John Goddard quoted in Joe Wilson, "Bishop asks more churches to join Back to Church Sunday", BBC News Lancashire, 2011-04-01. http://www.bbc.co.uk/news/uk-england-lancashire-12919610
11. Bishop of Oxford John Pritchard quoted in "CofE head of education accused of 'scaremongering'", premier.org.uk, 2012-07-10. http://www.premier.org.uk/news/current/CofE head of education accused of scaremongering.aspx
12. David Marley, "Thousands of faith schools reborn as academies: CofE gets key role in admissions, curriculum and funding as local authority influence withers", TES Newspaper, 2011-05-06. http://www.tes.co.uk/article.aspx?storycode=6080501
13. David Marley, "An answer from above? How the Church of England could become the driving force in state education", TES magazine, 2011-12-23. http://www.tes.co.uk/article.aspx?storycode=6158763
14. "Trust to create two Catholic secondary schools by 2013", PACT, 2011-11-11. http://www.pactschools.org.uk/docs/PACT_press_release_11_nov_2011.pdf
15. "Vatican encourages renewed missionary zeal in Catholic schools", CNA, 2013-12-26
http://www.catholicnewsagency.com/news/vatican-encourages-renewed-missionary-zeal-in-catholic-schools/
16. Brian Johns and Philip Rolfe, "Labor stalwart helped secure Catholic vote", Sydney Morning Herald, 2011-05-21. http://www.smh.com.au/national/obituaries/labor-stalwart-helped-secure-catholic-vote-20110720-1hous.html