Church-run home for the aged goes to court for an inheritance
Even though they are almost totally subsidised by the taxpayer, the overwhelmingly church-run homes for the aged are tempted to tap another source of income. In 2001 Germany had to change a law to try to protect residents from pressure to leave the home a legacy. This case shows why.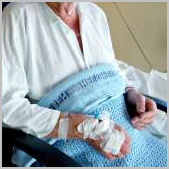 The Protestant Church (EKD) has failed in its attempt to secure an legacy. In 1992 two childless sisters had made an inheritance contract with the Protestant Diakonisches Werk Landshut (Bavaria), according to which it was to receive a property with a house valued at more than a million DM. The elderly women immediately contested the notarised contract, saying they had been taken advantage of in a moment of weakness and that the conditions they had set beforehand had remained unfulfilled.
However, the Diakonisches Werk official stood firm, although the circumstances were questionable: the sisters had signed the paper in a hospital room where the terminally ill younger sister — she died two months later — had just been moved to from intensive care.

Thus it was up to the court to resolve the matter, The (Bavarian) State Court in Landshut considered the contract valid, but the Superior State Court in Munich reversed this judgement in 1994, because the return services of the "charitable" organisation weren't proportionate to the material gain, as required by the Law on Homes for the Aged. However, the Church kept on despite (or because) of the age of the now 93-year-old plaintiff, and launched an appeal to the Federal Supreme Court (BGH).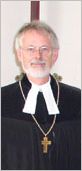 Outside of the Church this time-consuming continuation caused indignation. Yet the Munich Senior Consistory Councillor Helmut Hofmann claimed that the benefits for the Diakonisches Werk Home for the Aged ranked higher than the interest of the individual. The Church also made it clear that it urgently needed the inheritances of its residents in order to maintain its competitive position in the care home sector.
However, in 1995 the old lady adopted her niece and with that the vexatious contract became invalid. At this point the Federal Supreme Court confirmed the Munich judgement, so that the Church was left with court costs of 100,000 DM.

(Summary from the Süddeutsche Zeitung, 6 February 1996)