Notes for German church charities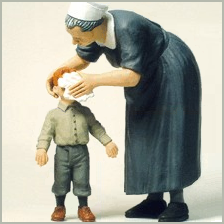 1. According to the professional association responsible for the charities, Insurance for Health Services and Welfare Work (Berufsgenossenschaft Gesundheitsdienst und Wohlfahrtspflege).

2. The German names are: Mennoniten, Heilsarmee, Selbständige Evangleisch-Lutherische Kirche, Methodisten, Herrnhuter Brüdergemeinde, Alt-Katholiken, Bund freier evangelischer Gemeinden, Bund Evangelisch-Freikirchlicher Gemeinden [Baptisten und Brüdergemeinden], Evangelisch-altreformierte Kirche.

3. Carsten Frerk, Caritas und Diakonie in Deutschland, (2005), p. 114.

4. Ibid., p. 111.
A copy of this document is in the possession of Dr. Frerk who must withhold both the name of the employee and of the particular Caritas Association in order to protect the employee.
The wording is noteworthy. First it is so vague as to instill a fearful caution in all Church employees (and even in anyone who might someday become one) to avoid membership in any organisation which might "serve to promote" irreligion, etc. (And the Church gets to decide what on earth "abortion thinking" means.) Second, the wording is deceptive. Because the grammatical construction is balanced, this gives the impression that the treatment is even-handed, as well. However, in actual fact, it grandly entitles the employee to terminate his own contract, if his private life doesn't conform to Church teaching. Quite the privilege.
The German original runs as follows:
Der Arbeitgeber und der Angestellte sind berechtigt, das Angestelltenverhältnis aus einem wichtigen Grund fristlos zu kündigen.[…] Als wichtige Gründe gelten auch schwerwiegende Verstöße gegen die Bestimmungen der kirchlichen Rechtsordnung oder gegen die Grundsätze der Glaubens- und Sittenlehre […]. Hierunter fallen zum Beispiel der Kirchenaustritt, das eheähnliche Zusammenleben in einer nach kirchlichem Recht ungültigen Ehe (u. a. Heirat nach Scheidung), die Beteiligung an einem Schwangerschaftsabbruch oder das öffentliche Eintreten für den Abbtreibungsgedanken, die Teilnahme an oder die Unterstützung von sittenwidrigen, glaubens-oder kirchenfeindlichen Bestrebungen sowie die Mitgliedschaft in Organisationen, die überwiegend derartigen Bestrebungen dienstbar sind.