Faith-based gambling in Australia
Australia leads the world in gambling and churches are cashing in with tax-free gambling schemes. The Pope's picture was even placed at the entrance to welcome people to the gambling room of a Catholic club. However, when philanthropist David Walsh used his winnings to found Hobart's Museum of Old New Art he faced a tax bill of $37 million.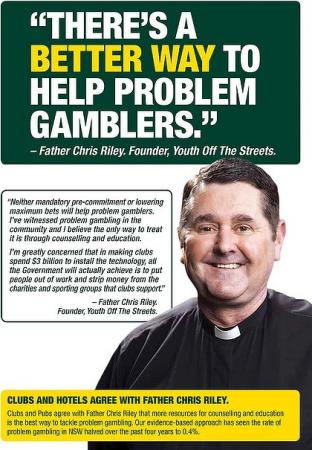 Australia has set a world record: more than 80% of its adult population gambles, the highest rate on the planet. [1] And the huge gambling industry that fosters this habit has got a boost in its lobbying efforts from Australia's Catholic Church. In an attempt to block the government's proposed regulations on gambling, the industry had this flyer distributed at the end of 2011 to 2 million houses in constituencies held by members of the current government. [2] It features a Catholic priest who argues that gambling should not be restricted because that would "put people out of work and strip money from the charities and sporting groups that clubs support". He is argues that the fabulously rich Catholic Church should not have to fund its own charities, but should be allowed to profit from gambling.
One Catholic charity, established by a priest, owns and operates two inner city "pokie parlours". Poker machines have been called "one-armed bandits" because they prey upon the poor, taking advantage of unrealistic hopes and, in many cases, gambling addiction. These two Melbourne poker parlours alone take more than $3 million from their deprived neighbourhoods. [3]
A government commission found that one in six regular poker players are "problem gamblers" and the poker machines reap about 40% of their profits from these 95,000 desperate people. [4] These gamblers lose an average of $21,000 a year. That's a third of the average annual salary. And each one of them is estimated to hurt between five and ten other people, including friends, family and employers. The cost of problem gambling to the community is estimated to be at least $4.7 billion each year. [5]
Yet not only is the Catholic Church exploiting this human misery, it is also doing so tax-free.

Notes
1. "Australia in thrall of gambling mania", BBC News, 30 January 2007. http://news.bbc.co.uk/2/hi/asia-pacific/6313083.stm
2. "Pokie clubs play an ace in battle to prevent changes", Sydney Morning Herald, 7 December 2011. http://www.smh.com.au/national/pokie-clubs-play-an-ace-in-battle-to-prevent-changes-20111206-1oha5.html
3. "Melbourne priest's charity raising $3m from pokies", Herald-Sun, reposted by Catholic News, 28 May 2002. http://cathnews.acu.edu.au/205/147.php
4. "Gambling: Key points", Australian Government, Productivity Commission, 23 June 2010. http://www.pc.gov.au/projects/inquiry/gambling-2009/report/key-points
5. "Problem gambling", Australian Government, http://www.problemgambling.gov.au/impact/