Opposition to the conscience concordat from Slovaks, MEPs and NGOs worldwide
♦ Critical statements by some Slovak NGOs and politicians
♦ Letter signed by 52 Members of the European Parliament across the geographical and political spectrum
♦ Letter signed by 130 leaders of international religious, women's rights and human rights organisations worldwide
Slovaks voice concern about the conscience concordat
Many NGOs protested against the "conscience concordat". These included Pro-Choice Slovakia, whose chairwoman, Olga Pietruchova, voiced the suspicion that the concordat was about more than the protecting the consciences of doctors:
We noticed [in the last] couple of years an effort of Christian Democrats to cut access of women to reproductive rights services, particularly to abortion, sexual education, etc. In our opinion this treaty [would] be a legal way to refuse to provide those services to women in Slovakia.
Also critical of the concordat was Eva Cerna, deputy of the small liberal party, Alliance of the New Citizen who said that:
Even today without this agreement signed there are doctors who to refuse to perform abortions, on the basis of a gentlemen's agreement, which is applied at most work places. We strongly believe Slovakia doesn't need this kind of law. I dare say Slovaks have been using their conscience up till now.

European MEPs from many countries and across the political spectrum voice concern
Letter from MEPs (PDF, 21K)
European parliamentarians wrote to the Slovak Prime Minister to argue that the "conscience concordat" would undermine the values of the European Union. The letter is signed by 52 Members of the European Parliament from 14 countries and six different political groups.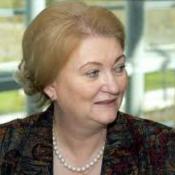 Resentment against this letter was voiced by the then deputy speaker of the Christian Democrats sponsoring this concordat. This is Anna Záborská, whose father had been Slovakia's ambassador to the Holy See. Although a doctor, she has blamed AIDS, not on a virus, but on "God's vengeance for homosexuality" (Slovak Spectator, 26 July 2004).
Dr. Záborská was not pleased when the international community expressed its concern over the rights of Slovak citizens: "I consider this letter as interfering with internal Slovak issues and creating an unfriendly atmosphere among Slovak citizens."
However, despite Dr. Záborská's attempt to frame it as an "internal Slovak issue", the European parliamentarians made it clear that they were worried about the implications of the conscience concordat for Europe as a whole:
Our concern is that this Treaty will damage and undermine the construction process of the EU as a unique political entity based on the principles and values outlined in Art I-2 of the European Constitution and the Charter of Fundamental Rights of the European Union.
The article to which they refer is a part of the present constitution of Europe, which says:
The Union is founded on the values of respect for human dignity, freedom, democracy, equality, the rule of law and respect for human rights, including the rights of persons belonging to minorities. These values are common to the Member States in a society in which pluralism, non-discrimination, tolerance, justice, solidarity and equality between women and men prevail.

Human rights groups from around the world voice concern
Letter from NGOs (English translation from Slovak) (PDF, 84K)
"Religious, women's rights and human rights leaders from across the globe" wrote to the Slovak Prime Minister. Their letter argues that the "conscience concordat" would set a dangerous legal precedent, threaten separation of church and state, violate Slovak human rights commitments and, furthermore, that conscientious objection can be safeguarded by other, more democratic, means. This was signed by more than 130 leaders of international religious, women's rights and human rights organisations. It's well worth reading.