Security hysteria on the Pope's trip to Bavaria (2006)
It's early afternoon on Monday, September 11, 2006. Armed with a search order and submachine guns, a special commando SWAT team of the Bavarian police swoops down on the Lindner family farm. This hilarious incident illustrates the expensive measures to keep the Pope safe from threats, real or imagined ― and what can happen if you question the costs of his state visit.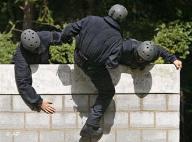 Siegfried Lindner, the father:
Fifteen policeman storm the property, arrest me and take me away. Naturally I wondered what would happen to my wife. She is alone in the house with my two children. I can do nothing, they take me with them.
The father isn't allowed to say another word to his stunned family.
Christopher Lindner, ten:
One of the policemen ran up the hill with the submachine gun in his hand and and dashed to the house.
Petra Lindner, the mother:

He had a bulletproof vest, a submachine gun and flung each door open. "Toilet secured!", then onwards down the hall to the next door, "Bath secured!" and, steadily advancing with his submachine gun further, "Kitchen secured!"
The children's bedroom was also searched, the children were questioned.
Florian Lindner, six:
Then the policeman went into our bedroom, "Have you got a laptop?" I said "yes" and brought it to the policeman.
The little boy showed him his toy computer. Instead of emails from Al Qaida, only Bavarian folksongs.

What had happened for the Bavarian rural police to react with this show of force? Kidnapping, murder, assassination? Pretty close: nearby, in the idyllic Marktl am Inn, stands the house where the Pope was born. Two days earlier, just before the Pope's visit, someone sinister had sprayed it with blue paint. The police suspect Siegfried Lindner of this crime.
Siegfried Lindner:
I was held in the police station for five hours. I was fingerprinted. I had a saliva test. I was photographed. I was completely recorded, I was interrogated.
The only grounds for suspicion against the father: in a doctor's waiting room he'd said to another patient that the 40 million euros that the pope's visit cost might well have been put to better use.


---

Source:
"Willkürlicher Polizeieinsatz", ("Arbitrary police action"), manuscript of the programme by Frank Wolfgang Sonntag, FAKT ("political magazine" of the Mitteldeutscher Rundfunk), 26 November 2007.