Slovakia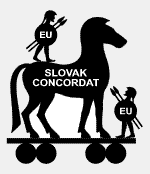 Is the Vatican trying to turn Slovakia into a model state of ultra-orthodox Catholicism? The audacious "conscience concordat" is unprecedented, as is the remarkable "five-year plan" for Catholicising the whole of Slovak society. Reversing the historical direction, John Paul II hoped that, with the help of a Catholicised Poland and Slovakia, Europe could be re-evangelised from the east. In 1979. a decade before the fall of the Iron Curtain, he encouraged the erection of crosses on public land in Poland as a sign of the "new evangelisation". Seven years later he said that "the evangelisation of the world is tied to the re-evangelisation of Europe." [1] And his successor chose the name of St. Benedict whose monasteries did much to evangelise Europe and who was proclaimed the patron saint of all Europe. [2]
In Slovakia today even questioning state subsidies to religious bodies ― €37.19 million in 2009 ― can be politically risky, as a Slovak government minister found when he was scolded by Catholic bishops for raising the issue without consulting them first. And Slovakia seems positioned to influence Europe. The strategic EU committee in charge of women's rights and equality has been headed by the Slovak Anna Zaborska, who has strong personal and political ties to the Vatican.
Slovakia's first concordat was a framework treaty concluded with the Vatican in 2000. This promised four more concordats in order to increase Catholic influence in schools, the armed forces and health care and to finance all of this with funds from the state. So far, only the concordats for education (2002) and the armed forces (2004) have come through. The Vatican has been pressing for the outstanding finance concordat and even making a renewed push for the conscience concordat whose controversial provisions concerning health care led ultimately to the fall of the government in 2006. As is customary, a few concordat privileges were given to other religions. These are set forth in the 2002 Agreement between the Slovak Republic and registered churches and religious societies. At one stroke this served to head off any opposition to the Vatican concordat from eleven other religious groups.


Notes
1. Pope John Paul II to the European Convention of the Missionaries to Migrants, 27 June 1986. http://www.linktoliturgy.com/index.cfm?load=page&page=1046
2. Paul VI's Proclamation of St. Benedict as Patron of Europe: "Pacis Nuntius" of 1964. http://www.zenit.org/article-35176?l=english