Hitler's concordat (1933) : Text and background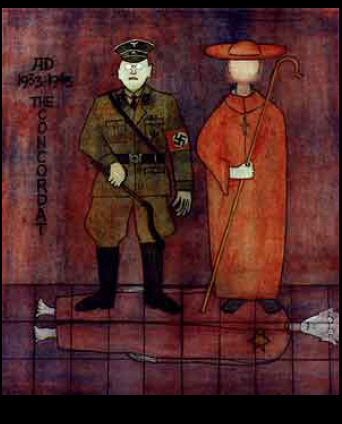 Fritz Hirschberger, a Holocaust survivor,
painted a Nazi officer and a faceless Cardinal (Pacelli)
standing on the body of a Jewish prisoner.
He titled it "The Concordat".
Cardinal Pacelli who negotiated the 1933 concordat
with Hitler later became Pope Pius XII.
It was a marriage of convenience between Hitler and the Vatican, one which disenfranchised the Catholic laymen. As Hitler cynically put it:
"We should trap the priests by their notorious greed and self indulgence. We shall thus be able to settle everything with them in perfect peace and harmony. I shall give them a few years' reprieve. Why should we quarrel? They will swallow anything in order to keep their material advantages. Matters will never come to a head. They will recognize a firm will, and we need only show them once or twice who is master. They will know which way the wind blows." [Quoted in Guenter Lewy, The Catholic Church and Nazi Germany (2000), pp. 25-26]
This marriage of convenience between Hitler and the Church hierarchy was deeply confusing to Catholics who looked to their church for guidance. Jared Israel explains the signals they received when Hitler was granted a concordat:
"Put yourself in the position of a 1933 German Catholic as you read the text of the Concordat between Nazi Germany and the Vatican, the Reichskonkordat.

"The German Catholic Church has rescinded its ban on joining the Nazi Party. The Catholic Centre party has dissolved itself. [And Articles 31 and 32 prevent any revival of this democratic Catholic party which had opposed the Nazis.] In the Reichskonkordat, the Vatican has promised that German Bishops and their subordinates will be obedient to and honour the Nazi state (Article 16). It has promised that German Catholic educators will teach children patriotic love for the Nazi state (Article 21). It has requested and received the Nazi dictatorship's promise to enforce internal Church decisions (Article 10). Cardinal Bertram of Breslau has called on Catholics to avoid all subversive or illegal (by Nazi definition) activities.

"How should you respond to the Nazi's new nightmare state? Doesn't the Catholic Church teach you to view Church officials as exemplary? Shouldn't they be emulated? Isn't the Pope's word law, and didn't the Pope sign the Reichskonkordat, an agreement with the Nazi dictatorship, that [in Article 16 contains this pledge for new bishops]:


In the performance of my spiritual office and in my solicitude for the welfare and the interests of the German Reich, I will endeavour to avoid all detrimental acts which might endanger it.
This concordat with Nazi Germany was negotiated by Cardinal Pacelli, who in 1939 became Pius XII. Undaunted by his wartime record, the Vatican is now attempting to have him declared a saint. In his ongoing canonisation process he has reached the venerable stage, which is Church certification that he was "heroic in virtue". Could this be a smokescreen of incense?